We walked at least 8 miles today. We set off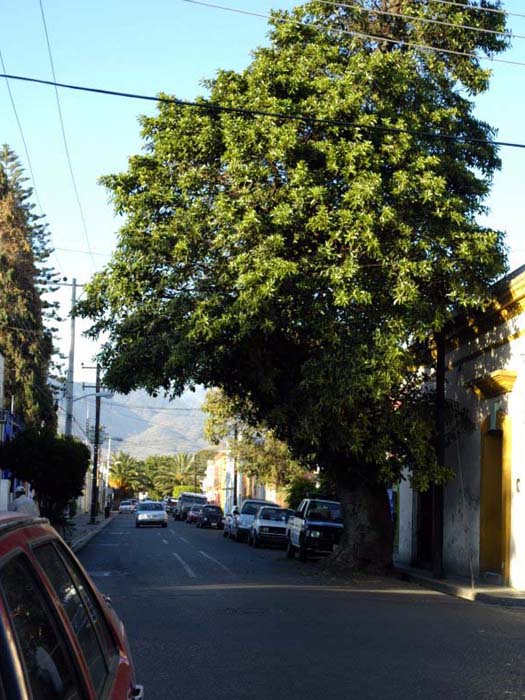 this morning to find some coffee and look for Guadalupe at the original hotel. Just at the corner outside of our hotel, we found this enormous tree growing in the street. I'm not sure how it gets any water, since it looks paved all around it.
We didn't turn on any gadgets to get the time, but I guess it was too early since the hotel was not open yet. So when we saw an institute, we remembered that the Spanish teacher told us that she taught only a half-block from our hotel. We went in and she was there. We set up to meet at 5 o'clock at a cafe around the block.
We headed out again and found a place labeled "Coffee Bar". Not that we have anything against tourists, but we realized that this place was especially for them, so that's probably the last time we will go there, since it has tourist prices and everyone we saw there was a tourist. We prefer not to be classified as tourists, unless we choose to act like they do(spend lots of money on "Mexican" stuff, speak nothing but English, and visit only the tourist places).
We asked the waiter which way was norte (we left the compass back in the room –duh), and headed off toward the zócalo. It's several blocks south, and quite nice. Since we didn't plan anything really, we didn't have the camera until later, so we'll put a picture of it on some other page. It takes up an entire block with huge trees and a fountain.
We looked at our map, and saw what Steve calls "the Jesus Company" diagonally opposite the southern corner, so we went that way. It's a very nice church on the inside, and labeled "La Compañia de Jesus" on the map.
We went several more blocks south to find the market, which were full of smells and stuff to buy. A little further we found the mercado de artesanias, which was not totally in full swing yet. It is smaller, but looks like it has a lot of stuff.
As we headed back north, we found a street that had several chocolate stores. They have the cacao beans for sale and they grind them right there and make different flavors of chocolate by adding different things. Steve bought a small amount of the batch being ground right then. It was still warm, and is quite good.
Heading north, we were a bit confused, and ended up criss-crossing a few blocks. We happened upon a weaving co-op and found a man that weaves beautiful rugs and also does tours. We got his card and felt lucky to have met him.
We passed by another church, out of which was pouring a stream of tourists. As we walked past it, we had to wade through another tourist group going the other way. Steve figures the tour company must sell hats, since it looked like they all were wearing the same kind.
We overshot our hotel's street by a block or two to the north, but found a two-block park area that is very nice with all kinds of different trees and plants. Finally, we made it back to the hotel, and took a little siesta.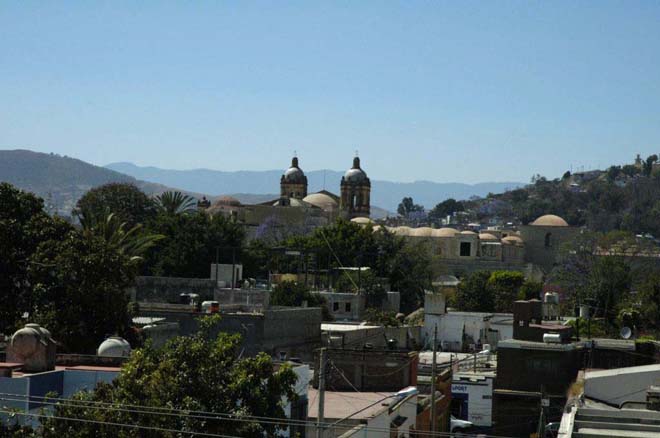 Here's some of the view from the roof of the hotel.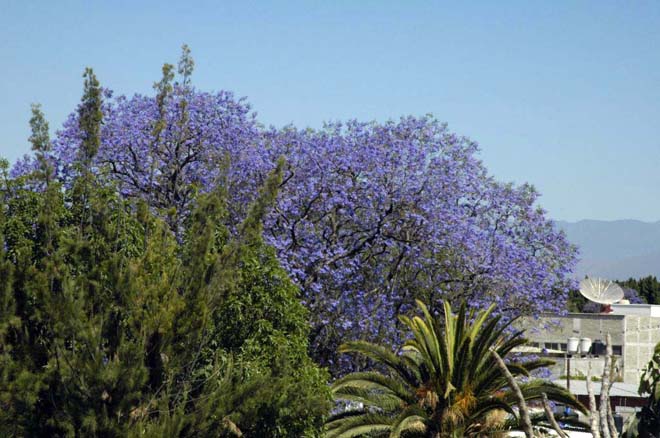 We ventured out again at about 3 pm.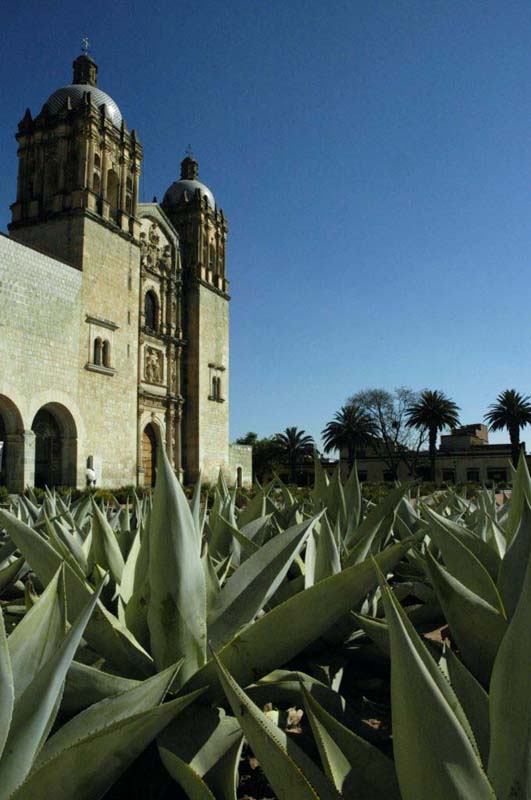 On our way back to find Guadalupe, we went by the church since we had seen an ad for a room with a view, that we could now write down. The tourists were gone now, so Steve got this picture.
We had seen several stores for mezcal, and coincidentally, as we saw one on the left of the street, Steve said "I wonder if they give samples", and a girl immediately on our right greeted us and poured from a bottle into a little sample cup.
This time Guadalupe was in, and we had a nice chat with her about where we might prefer to stay. She is so helpful and called several ads for us. Tomorrow, we will go with her to see several places.
It was almost time to meet Laura at the cafe. We found it pretty easily, although we walked down some streets we had missed earlier. The cafe is very nice with an outdoor area covered with a flowering vine. Unfortunately, they didn't serve much in the way of food, which we needed, since we had had only some chocolate since early morning.
We talked with Laura, who insisted we tell her in Spanish how we spent our day. We had a little lesson right there, which is why she's considered one of the better teachers, I suppose. She is very nice, and told us about a couple of places we could live, and will take us to see them tomorrow evening. I was a bit overwhelmed at her generosity and eagerness to help us. It was all Steve's wonderfulness that got these people to take an interest in us, and I just tag along and reap the benefits. It doesn't seem fair somehow.
We next went looking for some real food.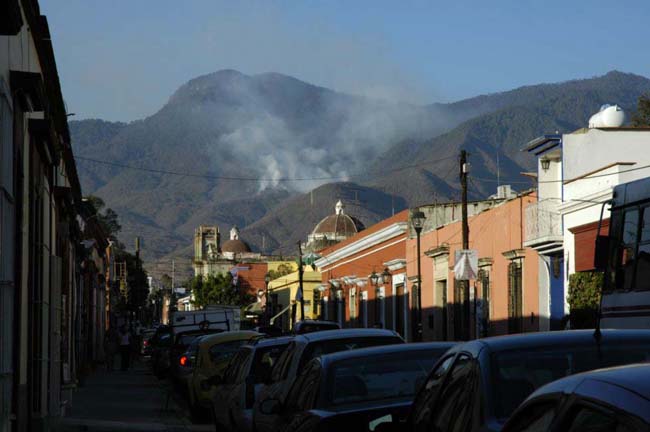 I thought we might find a little cocina that the locals use. We thought to try the one right by our hotel, but it was closed. The young man at the hotel desk looked confused when we asked where we might get some tacos. He didn't know where to tell us to go! He says he always eats at the cocina next door. After a few phone calls, he directed us to a place 6 blocks north, in front of the bus station. We missed the street, found the bus station eventually, but not the place with the tacos. We came back, and went the 4 more blocks south and west to a place near the other hotel, but not before circling the next block looking for a place that we had passed before. The restaurant where we ended up had some very good food, and we felt stuffed.
Just a few doors down, we stopped at an internet cafe to send an email home, and found ourselves sitting next to Guadalupe!
When we got back to the hotel, the pedometer showed 3.8 miles, but that was only the afternoon's walking. It was easily that much or more this morning.